Directions to the Observatory:

Drive east out of Edmonton on Highway 14 to the town of Tofield.
When you reach Tofield you have the option of going through town (watch for Watchable Wildlife signs) or you can stay on Highway 14 until Secondary Highway 834 on which you turn north.
Going south on this road, you would arrive at Camrose (see map).

Go north until you reach a T - intersection.

Turn right (east) at the T- intersectoin.

You are now on Rowan's Route which will turn into gravel.

*

Follow Rowan's Route almost to the end, at which point there will be a Texas gate on the left.

Drive through this gate (closing it behind you) and proceed to a second Texas gate.

Park your vehicle on the inside of the second gate (there is always a chance that your car will
become a scratching post for cattle if left outside the gate).

Follow the trail east until you see a sign directing you to the lab.

Download Trail Map Here

(396 kb)
*
Note: Rowan's Route can get slippery when wet.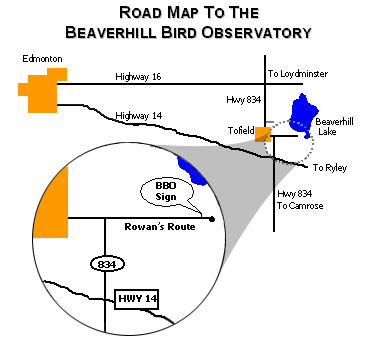 Below is the best map of the area. It was borrowed from Dick Decker's highly successful, Prairie Water: watchable wildlife at Beaverhills Lake, Alberta. Read it to find out why Dick Decker refers to the lake as Beaverhills Lake not Beaverhill Lake!