Alberta Nocturnal Owl Survey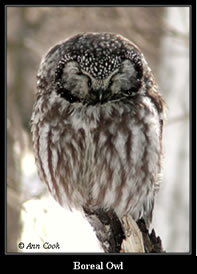 Relatively little is known about the abundance and population trends of most species of nocturnal owls in Alberta. Most owls are not adequately monitored by the existing multi-species continent-wide surveys in North America such as the Breeding Bird Survey.

The Beaverhill Bird Observatory developed, organizes and administrates the Alberta component of a national strategy for monitoring nocturnal owls. The procedures are available in a guideline booklet and are designed for broad scale monitoring of relative abundance, distribution, habitat use, and changes in these parameters over time.

Broadcast surveys are one of the most widely used techniques to locate and survey owls. Owls vocalize to communicate with their mates and delineate territory. Imitating or broadcasting tape recordings of owl vocalizations can invoke vocal responses from many species of owls. This survey technique has been used successfully to document the range and status of several owl species in North America, and can also be used to determine habitat associations.

Volunteers are needed to help run owl surveys during March, April, and early May. Only two nights (approximately two hours each night) are required for these surveys. Volunteers will have routes assigned to them along roads, but can decide what area of the province they would like to work in. The volunteer will need a reliable vehicle (this is a roadside survey), a CD/tape player (we have some that can be borrowed), a flashlight or headlamp, a thermometer, warm clothes, willingness to learn the calls of the owls in your survey area, and lots of enthusiasm. We also recommend you have someone to survey with for safety reasons.

If you would like more information or would like to participate in a survey, please contact Lisa Priestley at . You can also write to Lisa at:

Lisa Priestley
Box 1418
Edmonton, AB
T5J 2N5
Phone: (780) 918-4804

To obtain a copy of the guidelines, click on the cover below to download a pdf file.

Owl Files Newsletter Vol. 3 No. 1

Bird Studies Canada
Information on the North American Raptor Monitoring Strategy is available at:
www.im.nbs.gov/raptor/raptor.html