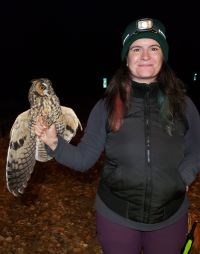 Jana Teefy - Head Biologist
Jana's journey with BBO started as a volunteer. She loved it so much that she changed careers and went back to school for Environmental Sciences, majoring in Wildlife and Fisheries Conservation, at Lakeland College. Jana was hired as a summer field technician between school years and then as Assistant Biologist after graduating. She is thrilled to take over as Head Biologist in March, 2023. Aside from birds, she enjoys hiking, camping, and photography. Black-Capped Chickadees are her favorite bird because they are adorable and feisty. 
Jon Van Arragon - Assistant Biologist
Jon became a member of the BBO staff in 2020 after being a regular volunteer for several years. His interest in birds started at the BBO and he completed the Young Ornithologist's workshop in 2017. During the banding season he has been known to bombard his coworkers with all manner of bird puns, feather or not it's appropriate. Outside of the field he enjoys backpacking, baking, and Broadway music. His favorite birds are the Bohemian Waxwing and the Hermit Warbler.
Ethan Denton - Summer Field Biologist 
Ethan got into birds aged just 5, and the obsession has only snowballed since. Growing up in Canmore, Ethan spent a lot of time with mountain birds, and developed a passion for studying migration in all its aspects. In 2021 he completed an Alberta Big Year, setting the accepted record at 325 species. In his down time, Ethan can usually be found trawling wet fields for shorebirds or beating around the bushes in the hopes of an interesting Warbler. His favourite bird is the Peregrine Falcon, thanks to the "My Side of The Mountain" books, and their nomadic nature.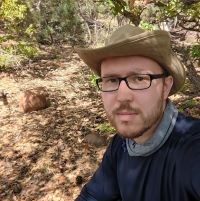 Logan Bradley - Seasonal Biologist and BirdSmart Presenter
Logan began volunteering with BBO in 2016. He then went on to complete five seasons of field work involving avian point counts and an internship investigating warbler behaviour before returning to the BBO as staff. He enjoys applying his skill set to studying birds in a diversity of habitats and locales. Birds are his greatest passion but he is also an avid naturalist who enjoys documenting and identifying whatever animals and plants he comes across. When not outside, Logan enjoys listening to music and reading.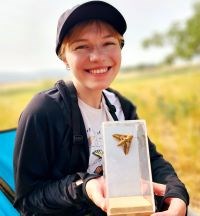 Jasper June - Seasonal Biologist and BirdSmart Presenter 
Jasper June (they/she) is a queer, disabled, researcher, artist, and graduate student at Yorkville University. For their undergraduate thesis, they studied American Pika in Kananaskis for the Animal Communication and Cognition Lab at MacEwan University. They are working on a master's thesis on monarch migration, which surveyed butterflies, and milkweed habitats in Alberta. They appreciated the opportunity to complete the Grassland Breeding Bird Census internship at Beaverhill Bird Observatory this summer. Jasper is passionate about making conservation and local biodiversity accessible and engaging to the public through community science and education. Jasper enjoys studying connections between citizen science, and psychology for fostering conservation efforts and community mental health. As a visitor of BBO since childhood, Jasper is excited to be joining the team!