The Beaverhill Bird Observatory's Annual
Steaks and Saw-whets
Fri Sept. 30 and Sat Oct. 1, 2016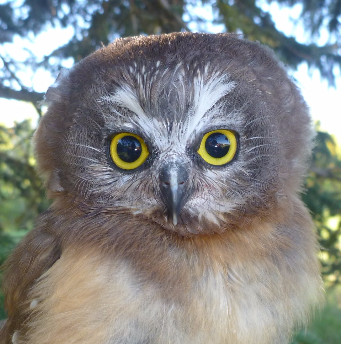 Join the Beaverhill Bird Observatory celebration of the fall movements of the tiny but mighty Northern Saw-whet Owl.
A complete steak barbeque will be served followed by setting up mist nets to capture owls for banding. Learn about their biology and observe saw-whet owls up close!
This popular event sells out so please book early to ensure your spot!! Online registration required.
Time: Dinner served between 6:00 and 8:00 p.m. Nets go up at 8:00 p.m.
Cost: Members $30 /person, Non-members $40/person can include $10 life membership, free for kids under 12 when accompanied by their parents.
Contact: Contact Jason Duxbury at jayduxbury@gmail.com for more information.
Supported by Alberta Conservation Association, TD Friends of the Environment, Alberta Gaming and Liquor Commission, Nature Canada (Charles Labatiuk Fund) and Edmonton Community Foundation
Saturday is Sold Out
Friday is Sold Out
---
Beaverhill Bird Observatory's
Geoff Holroyd Young Ornithologists' Workshop 2016
The first ever Beaverhill Bird Observatory's Geoff Holroyd Young Ornithologists' Workshop ran from 31 July - 1 August, 2016.
The fun and enthusiastic group of students made for an enjoyable and productive week. The eight students came from across central Alberta with a common interest in birds and nature. During the week they improved their bird identification skills and were taught how to extract birds from mist nets and band them.
The week included daily talks with topics as diverse as bird photography (Gerald Romanchuk), tree swallow ecology (Geoff Holroyd) and peregrine falcon recovery (Gordon Court). David Lawrie and Loney Dickson lead a field trip to learn about local butterflies. Other local field trips allowed the students to band purple martins, canoe and handle raptors.
While camping at the banding station and getting up to band at 5 am they experienced a glimpse of field biologists' life. By learning about the lives and plights of the local breeding birds and those migrating through the area they gained a better understanding of bird conservation issues.
The similar Doug Tarry Young Ornithologist program at Long Point Bird Observatory has seen their program become a jumping off point for many leaders in bird conservation. We saw the same enthusiasm and leadership skills in BBO's group of budding ornithologists. Two of the students attended both programs, providing them with a Canadian bird monitoring experience from east and west.
We hope the Workshop will become an annual event. BBO was unable to secure new funding for the workshop since the workshop is not directly affecting a large number of people. If you wish to support a student in 2017, your $200 donation will ensure a student can attend! Contact helentrefry@gmail.com if you are interested in supporting a future young naturalist.
Leaders Helen Trefry and Geoff Holroyd want to extend a big thank you to those already mentioned as well as Jeff Manchak, Dan Verhoeff and Irene Crossland for assisting. A HUGE thanks to the staff, Kevin Methuen, Emily Cicon and Megan Jacklin for helping to make the week a memorable one for the students. The Tofield IGA provided a much appreciated discount on groceries.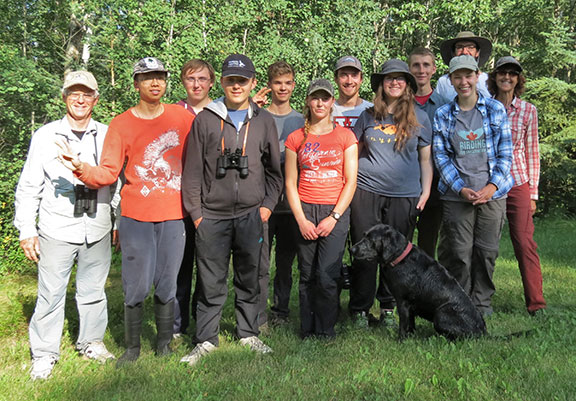 2016 Beaverhill Bird Observatory's Young Ornithologist Workshop group: Dr. Geoff Holroyd (Chair Beaverhill Bird Observatory), Larry Zhong, Robin Moore, Myles Grieve, Luke Nelson, Charlotte Wasylik, Carson Hvenegaard, Stephanie Olson, Jeremy Lambe, and banders Kevin Methuen and Emily Cicon, and Helen Trefry (BBO Board Member and workshop organizer). In front is Jackie, camp mascot.