Steaks & Saw-whets

Friday October 4 & Saturday October 5, 2013
Join the Beaverhill Bird Observatory for this annual event to celebrate the fall movement of the tiny Northern Saw-whet Owl.
These popular evenings start with a barbeque dinner (steak, chicken, hotdogs, veggie options) with all the fixings followed by netting of owls.
A yummy selection of homemade desserts completes the evening.
Register early as this event fills quickly!
Location: Beaverhill Bird Observatory, south end of Beaverhill Lake just east of Tofield (maps provided upon registration)
Time: Site opens at 5:30, dinner served between 6 and 8 p.m., netting starts at 8 p.m. with desserts served.
Cost: $25 per person, 12 and under free.
Bring: Flashlight or headlamp for each person, warm layered clothes, no matter how warm you think it is (including toque), and comfortable walking shoes/boots. Money if you want to enter draw for limited edition event shirts.
Registration required: Contact Chuck Priestley @ chuck@STRIXeco.ca or phone (780) 662-4909.

---
Fall Migration ..... Already!?!!?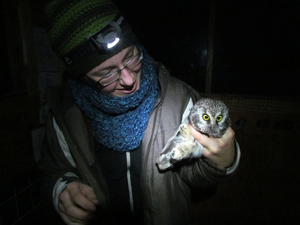 The bird observatory staff have started the fall migration monitoring program.
Flocks of geese are already starting to move south and the songbirds that were breeding up in the boreal forest have began to make their journey to their wintering grounds.
We hope you are able to join us at the lab to see these wondering birds up close.
Phone 780-819-9927 to check with staff on their schedules. See you at the LAB!!
For updates on what birds are being captured please see our bimonthly